The home of the 'RGIT'
Acquired by Petrofac Training Services in 2004, our survival centre was originally purpose-built for the Robert Gordon's Institute of Technology (RGIT) Montrose in 2002 and it pioneered survival training.
Today, we continue to invest in these exceptional training facilities, in line with clients' changing needs and industry requirements. Training conforms to rigorous industry accreditation standards and is delivered by our highly proficient instructors.
Where to find us
Altens Training Centre,
Blackness Avenue,
Altens, Aberdeen,
AB12 3PG,
Scotland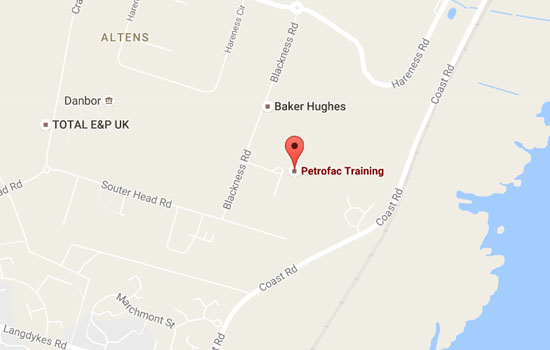 Training facilities
Set up to ensure delegate safety and welfare, we're committed to ensuring our trainees succeed. Our facilities include:
Two x 3m deep training pools
Two helicopter underwater escape trainers (HUETs)
One lifeboat for use in the pools
One fast rescue craft for use in the pools
Two OPITO accredited major emergency management simulators
Two radio training rooms
One computer based training room
One external fire and self-rescue training facility
External warehouses for use in Lifting Operations training
21 classrooms
Modern, industry recognised survival equipment for delegate use
Courses
A range of courses can be delivered from the one central location, including:
BOSIET (with CA-EBS) (Basic Offshore Safety Induction and Emergency Training)
FOET (with CA-EBS) (Further Offshore Emergency Training)
HUET (Helicopter Underwater Escape Training)
Renewable UK Marine Survival Training
Offshore Installation Manager (OIM) training
Control Room Operator (CRO) training
Major Emergency Management Initial Response (MEMIR) training
Basic fire fighting
Lifting Operations training
Transportation of Dangerous Goods training
Health & Safety – offshore and onshore training
Competence Assurance Management training
Operations & Technical training
Learning & Development consultancy